What is the Peeling Machine Used for?
It is an automatic industrial use garlic peeling machine, mainly used for garlic clove skin removing. Feeding the garlic clove into the hopper, then the garlic skin and clove will separate automatically.
Three models with different production capacities are available at Kingston Machinery. The largest peeling capacity could reach to 600kg/h. It is the best choice for food industry, and a must-have peeler for commercial purpose where mass garlic (skin removing) production is required.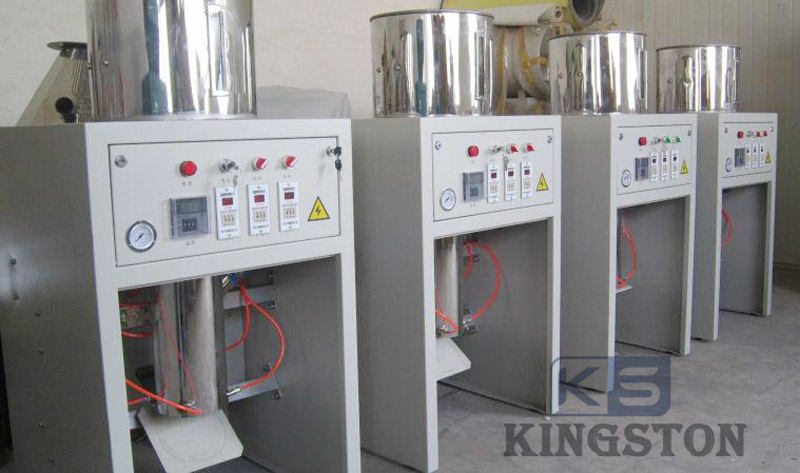 Garlic Peeling Machine Parameters
| | | | |
| --- | --- | --- | --- |
| Model | ST150 | ST300 | ST600 |
| Power | 0.2kw/220v | 0.2kw/220v | 0.2kw/220v |
| Weight | 70kg | 110kg | 160kg |
| Dimensions | 640*660*1370mm | 740*740*1685mm | 1040*910*1750mm |
| Capacity | 150kg/h | 300kg/h | 600kg/h |
More Details on Kingston Garlic Peel Remover Machine
1. Dry type peeling, damage free garlic skin removing
The industrial garlic peeler adopts pneumatic peeling principle, totally dry way peeling. Processors can directly feed dry garlic into the hopper, and then the clove will be automatically peeled, no mechanical damage to the full head of garlic. The dry garlic peeling rate can reach to 95%.
2.It is widely applied in agricultural produce fairs, food processing factory, catering establishments, restaurant, vegetable wholesale markets, hotels, garlic processing plants, garlic deep processing industries etc.


3.Low energy consumption
If you are on a budget, or looking for cost/energy-saving garlic peeler machine, Kingston Machinery recommends our ST series garlic skin remover. It has low energy and water requirements. The efficient garlic peeler is the best way to ensure you are keeping energy cost as low as possible.
4.One-time purchase
It works well for garlic cloves with different sizes, enabling to provide all garlic peeling solutions using one equipment. The garlic peeling machine is suitable for different customers with different peeling requirements.

How does Kingston Garlic Peeler Work?
It is equipped with an air compressor. Compressed air is used as power. The special design makes sure that there is no blade friction and mechanical damage to the garlic clove. During its working, the garlic are peeled by strong air swirling flow which is produced by multi-spot air jet, low breakage and smooth surface.
Top Picks
◆ super low failure rate, widely used for deep processing of garlic etc.
◆ auto-temperature control
◆ dry pneumatic principle, ensuring perfect and hygienic peeled garlic clove
◆ steady performance
◆ safe to operate
◆ in combination with other garlic processing equipment, such as garlic bulb separating machine, and garlic sorter.
How Do You Incorporate Garlic into Your Daily Diet?
1. Add the garlic to your meal or add it to a green juice or smoothie.
2. Cut a clove of garlic into small pieces and swallow the small pieces one at a time. (With a meal)
3. Before consuming the garlic it is best to allow the cut or crushed garlic to be exposed to the air for at least 5 to 10 minutes in order for the compounds to become fully activated.