Are you looking for an automatic meat slicer to cut hard frozen meat straight without defrosting? What's the capacity? And slicing shape? Thickness? Uncover it on this page, where Kingston Machinery will detail a world class frozen meat slicer.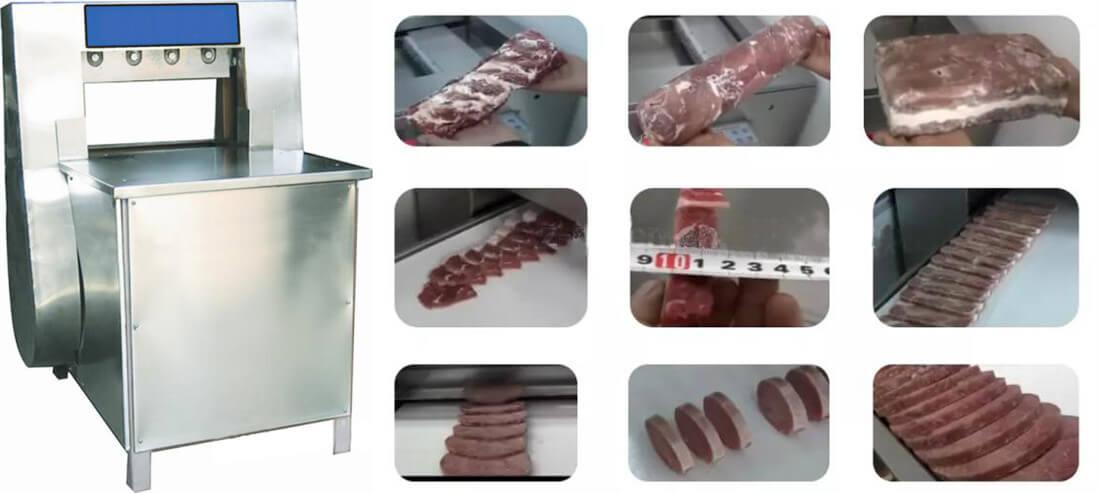 Kingston Frozen Meat Slicer QP-1500
QP-1500 unit is a commercial meat slicer, ideal for large quantities frozen meat slicing. It ensures a precise cut and perfect slicing performance, guaranteeing the best results in the daily meat processing activities.
Built-in Material: the whole meat slicing machine is made of stainless steel. The corrosion and abrasion resistant materials make it fast maintenance and easy to clean.
Slicer Blade: the blade head of QP-1500 meat slicer is driven hydraulically, which enables it cut the hardest frozen meat blocks into regular slices. Buyers will never worry about the ruin of the blade, and the lost of accuracy when using QP-1500 slicer to cut frozen meat.
Service Life: the slicer is dedicated & well designed with the best quality. It is made to last for long-time industrial meat slicing activities. For years of consistent in-site testing, it was proven that Kingston frozen meat slicer can ensure perfect performance even after a long use in meat processing plants.
Wide Application: it is an ideal instrument for butchers, delis to slice any kinds of frozen & semi-frozen meat, like frozen beef, sausage, poultry, fish, ham, chicken, lamb etc. The sliced meat pieces can be further processed for variety of purpose including sandwiches, pizza topping and so on.
All meat processing equipment provided by Kingston Machinery are professional and electric ones with high quality.
| | |
| --- | --- |
| Model | QP-1500 |
| Power | 4kw/380v |
| Capacity | 1 T/hour |
| Weight | 300kg |
| Dimensions | 900*847*1300mm |
Top Picks of Kingston QP-1500 Frozen Meat Slicer
1.Adjustable Thickness, Variable Speed
Various slicing blades are optional for customers. The thickness of the sliced frozen meat is adjustable according to different consumers' requirements.
2.Used for Slicing both Regular and Irregular Shape Meat Lumps
QP-1500 unit is a powerful frozen meat slicer which can be installed for slicing of both regular and irregular size/shape meat blocks. Besides that, it is with small land occupancy, super versatile in any meat slicing activities.
3.Safe Operation
It is specially designed with emergency stop, preventing the operator from unforeseen accident. Kingston Machinery makes every endeavor to ensure the safe operation of our food processing machines.
4.Maintenance and Cleaning are Easy.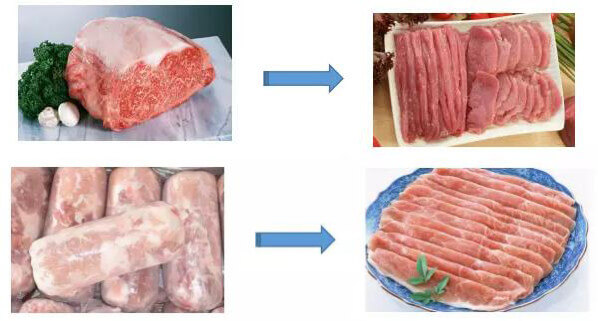 How to Operate Kingston Frozen Meat Slicing Machine?
Put the frozen meat on the feed inlet of the slicer machine;
2. Set the thickness for the cut of frozen meat;
3. Place a food storage container under outlet of the slicing machine;
4. Turn the machine on;
5. The automatic slicing machine will work and slice alone without manual operation.