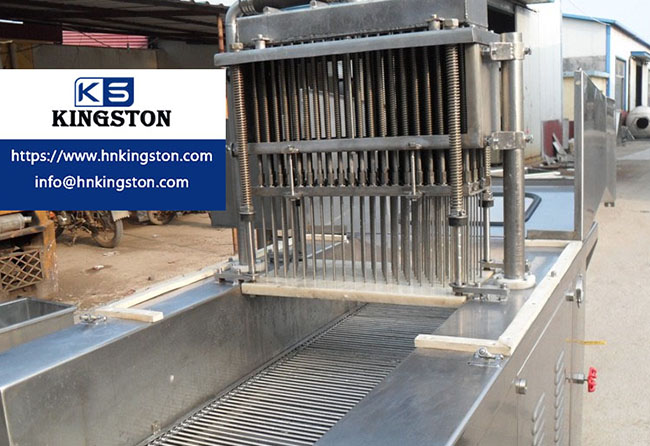 What is a Commercial Meat Injector?
An industrial meat brine injector is mainly used to inject saline water in to meat. Brine injection keeps meat fresh, soft and make it loose. It is a perfect solution to pickle meat in the saline water to keep meat good taste for further processing, meanwhile improve meat quality.
Kingston meat brine injection machine is always used on meat processing, such as sausage making, bologna making, bacon, salted meat making process etc.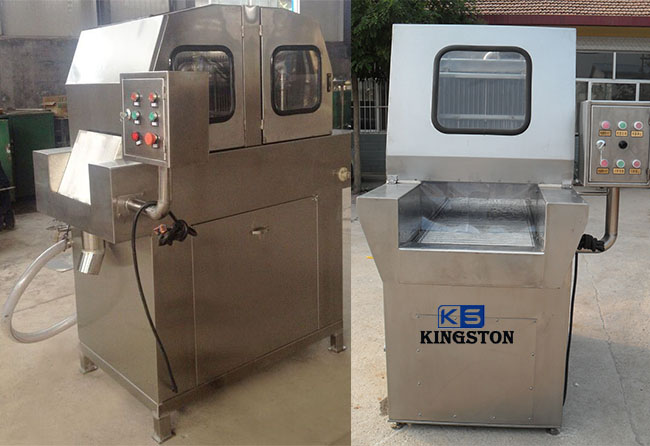 Model
ZYZ-48
ZYZ-60
ZYZ-80
ZYZ-108
ZYZ-180
Productive power
200-400 kg/h
400-600 kg/h
600-800 kg/h
800-1000 kg/h
1000-1200 kg/h
Power
4.1kw
4.1kw
5.1kw
6.2kw
7kw
Injection rate
40-80%
40-80%
40-80%
60-90%
60-90%
Needles
Ø 2mm
Ø 3mm
Ø 4mm
Ø 2mm
Ø 3mm
Ø 4mm
Ø 2mm
Ø 3mm
Ø 4mm
Ø 2mm
Ø 3mm
Ø 4mm
Ø 2mm
Ø 3mm
Ø 4mm
Injection pressure
0.45-0.9 MPa
0.45-0.9 MPa
0.45-0.9 MPa
0.45-0.9 MPa
0.45-0.9 MPa
Injection frequency
15-40 times/min
15-40 times/min
15-40 times/min
15-40 times/min
15-40 times/min
Stepping speed
0.9-2m/min
0.9-2m/min
0.9-2m/min
0.9-2m/min
0.9-2m/min
Dimension
1220*950*1530 mm
1620*980*1620 mm
1650*1170*1720 mm
2000*1350*1850 mm
2000*1350*1850 mm
Weight
250kg
320kg
320kg
430kg
520kg
Features of Meat Saline Injection Machine
◆ It is a specially-designed injector with long-lasting service life, for brine injection or flavor-enhancing fluid injection into various kinds of fresh meat products, such as boneless pork, beef etc.
◆ The meat brine injector is also available for meat with bones, such as chicken, ducks, geese etc. When its needles touch hard bones, the injection machine will lift automatically, no damage to needles and other spare parts of the meat injector equipment.
◆ The brine injector machine is made of full stainless steel 304 material, super easy to clean. In the meantime, it meets international food health standards.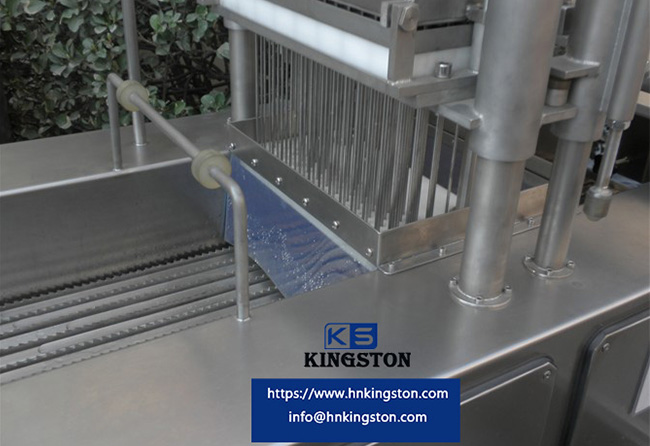 Top 4 Reasons Why Meat Processors should Choose Kingston Brine Injector
1. Kingston saline injection machine can achieve automatic meat injecting, automatic meat conveying during its working process. To a great extent, it saves time, labor and cost, and greatly improves injection efficiency. It is a first-choice for all meat processors.
2. The conveying speed and distance between needles can be adjustable as per customer's needs. It is a well-designed brine injector which takes full consideration of individual demand.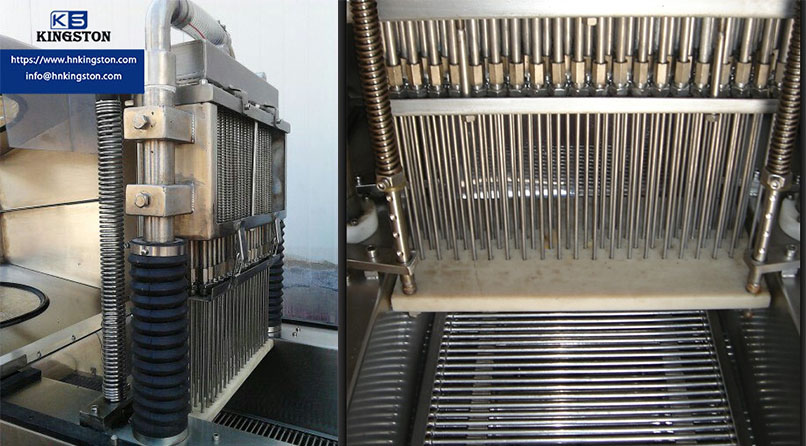 3. It is equipped with filtering system, avoiding needles be blocked. And it ensures stable injecting pressure for ideal injecting result.
4. Kingston commercial meat brine injector machine enables to tenderize the meat, improves its grade and enhances its quality.
Working Video of  Commercial Meat Brine Injector