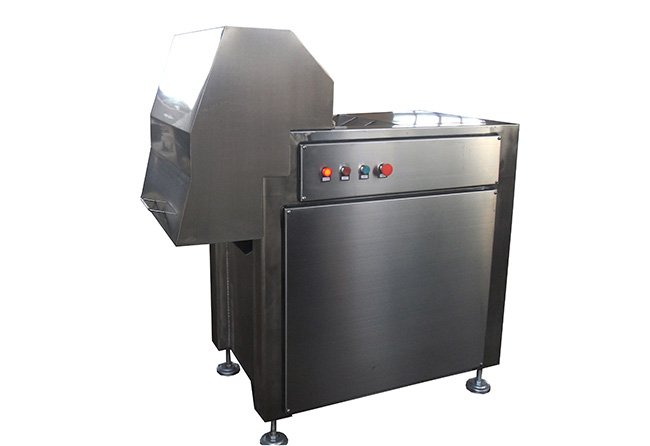 Frozen meat dicer is an ideal instrument for dicing any kinds of frozen & slightly/semi-frozen meat with/without bones.
Kingston Frozen Meat Dicer Model KS-2000
KS-2000 is the most versatile model, with a dimension of 1500mm x 720mm x 1400mm.
It is capable of handling large frozen meat blocks & producing diced cubes, enabling an hourly throughput of up to 5 tons, the finished meat dices for further processing.
The outstanding benefit of Kingston KS-2000 model lies in simple operation, high productivity, uniform product shapes & sizes, and continuous processing of standard blocks. It is truly an industrial frozen block meat dicing machine.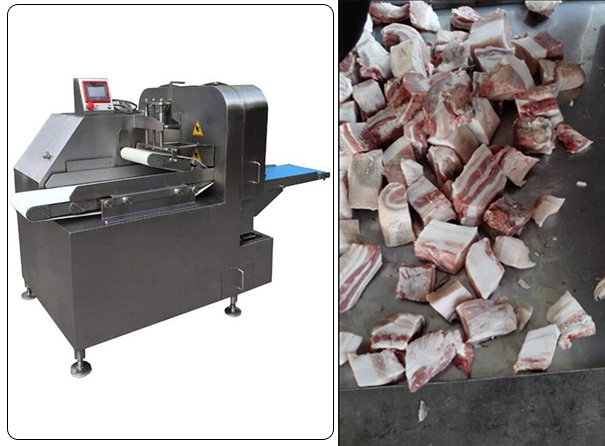 | | |
| --- | --- |
| Model | KS-2000 |
| Power | 5.5kw |
| Capacity | 4-5T/h |
| Weight | 600Kg |
| Dimensions | 1500*720*1400 mm |
| Voltage | 380V |
It is part of Kingston range of meat processing equipment for industrial use.
◆ It is made of stainless steel, compact in structure.
The whole machine, including its cutting blade, casing, is made of food grade stainless steel. Its sturdy and reasonable structure design can bear heavy loading, being an essential & professional frozen meat dicer for food processing industry.
◆ Wide application
The beautiful dicing machine is suitable for raw meat, cooked meat, fresh meat, frozen meat, quick frozen meat & semi-frozen meat processing plants. It is the best dicer machine to dice meat (beef, pork, cow), fish, poultry (chicken, duck) into cubes. It is mainly used in specialized butcher shops, frozen meat processing factory, school hall, large shopping centers, commercial kitchen, supermarket, large restaurant etc.
◆ Adjustable dice size
The dicing head of Kingston frozen meat dicing machine can be disassembled and installed to produce specific & precise dice size at high dicing efficiency. No matter what diameter of finished cubes you need, you can always find the best suitable model at Kingston Machinery.