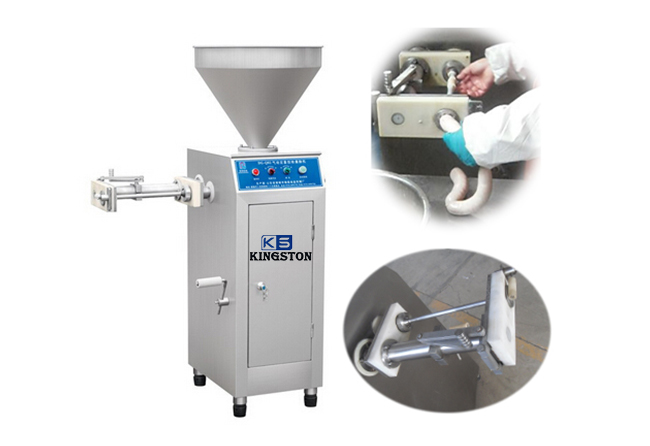 Sausage Stuffing Machine,Delicious Sausage Maker
We know sausage is favored by so many people around the world, and people are looking for quality sausage machine so they can enjoy more delicious sausages, which is why kingston offers the best sausage stuffer available.
This sausage stuffing machine is a pneumatic driven type adopting the photoelectric control principle, allowing continuously performance and uniform filling result. It is also called as "pneumatic quantitative sausage filler", Used for filling sausage casing of all kinds and sizes with ease.
Kinston Automatic Sausage Stuffer Machine, Your Best Choice
It is a 150kg weight automatic filling machine, mainly used for commercial sausage making session.
As a pneumatic driven stuffer, it distributes the meat evenly throughout, and streamlines the filling process for the operator. The professional sausage stuffing machine is entirely constructed with stainless steel, enabling to withstand high work cycles.
It is an easy-to-operate vertical model, friendly for anyone who's newer to sausage making whilst available for commercial use. With Kingston sausage fillers, it's super quick and easy for operators to fill their sausage creations.
Maybe you are interested in Bowl Chopper Machine for sausage making.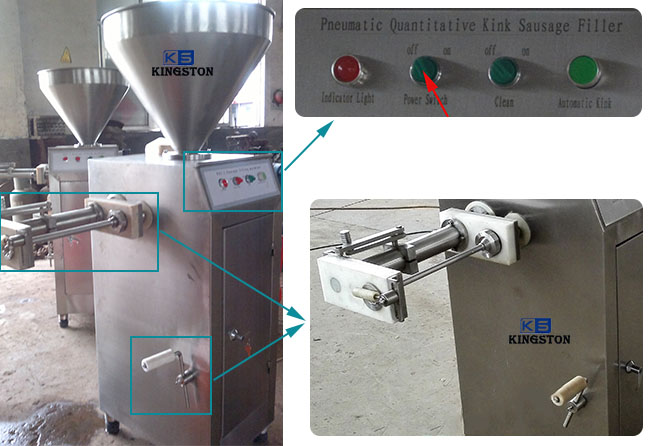 | | |
| --- | --- |
| Model | JXD1 |
| Power | 220V/50VA |
| Pressure | 0.5-0.6Mpa |
| Dimensions | 660*550*1520mm |
| Filling tube diameter | 12mm/15mm/25mm |
| Weight | 150kg |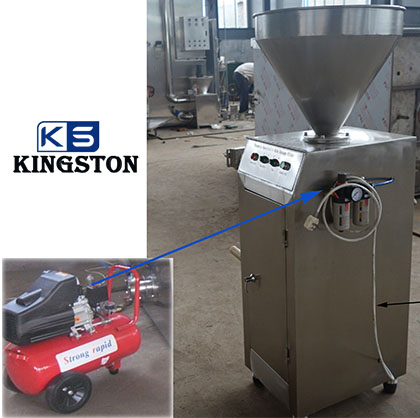 Top Picks of Kingston Sausage Stuffer

◆ Adjustable Speed
The stuffing machine is equipped with stop and start commands. The operator can control and adjust the outfeed speed at any time. To a great extent, it ensures the precision operation. That's the main reason why we recommend this model for our customers. It is regarded as the best sausage filling system ideal for industrial use.
◆ Wide Applications
The sausage filling machine is perfect for both small and medium-scale processing plant. It can be widely used for sausage production lines, meat processing plants, pork processing centers, butcher's shop, supermarkets etc.
◆ Various Stuffing Tubes Available for filling sausage casings
All of Kingston sausage filling machines are manufactured with different sizes of stuffing tubes here. The operator can choose the right filling tube size according to the thickness of the sausage.

How to Stuff the Sausage?
It's very easy to use Kingston stuffing machine to fill sausage.
1.Loading your sausage stuffer
Seasoning the minced meat beforehand for further stuffing. And then fill the meat chamber. During the fill process, please make sure to minimize the air bubbles getting into your sausage. The fewer, the better.
2. Casing
After stuffing the reservoir of the filling machine, the operator need to attach sausage casing to the stuffing tube. All types of casings can be used here: natural casing, collagen casings & artificial casings (fibrous, or plastic).
3. Stuffing the sausage casing
Hold the casing firmly in place, then press the button and begin to pour the minced meat into the casing.

For more information on other meat machines, please click the link or mail to [email protected] to let us know your specific requirements.
Kingston, as the best supplier of sausage stuffer machine, is dedicated to manufacturing top quality sausage making machines for worldwide customers. We're here to answer any meat-processing-related questions you may have, so don't hesitate to mail us about any concerns you may have.
Contact Email: [email protected]