Introduction of Nut Powder Milling Machine
It is used to grind raw or dried nuts into a fine flour, therefore it is also called as "nut flour making machine". The highly versatile nut grinder mill can be used in multiple production and industrial applications for both nuts and seed products.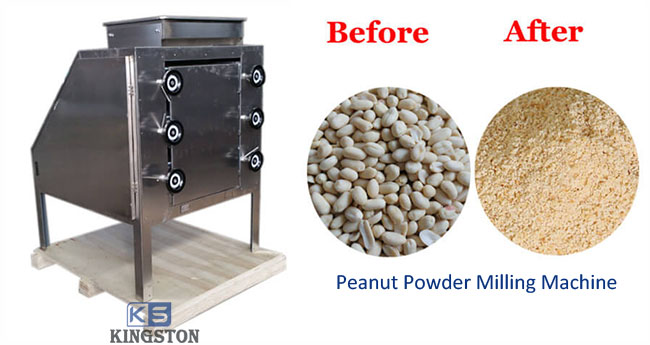 The fineness of finished nut flour is generally 40-60 mesh. The grinding fineness can be adjusted according to customer's requirements.
How to achieve the desired fineness?
It's simple. The operator only need to adjust the gap between two grinding rollers.
Top Picks of Kingston Nuts Powder Grinder Mill
◆ Simple Operation
The reasonable design makes the industrial nut flour grinder extremely easy to use. With its compact and sleek looking, Kingston nuts grinder mill are widely used in commercial peanut and almond powder making.
◆ Wide Application
In addition to peanut and almond, the highly versatile nuts grinder mill can be used for grinding soybean, sesame, coffee beans, cocoa beans etc. It has long been recommended by our regular customers for grinding a wide variety of peanut products.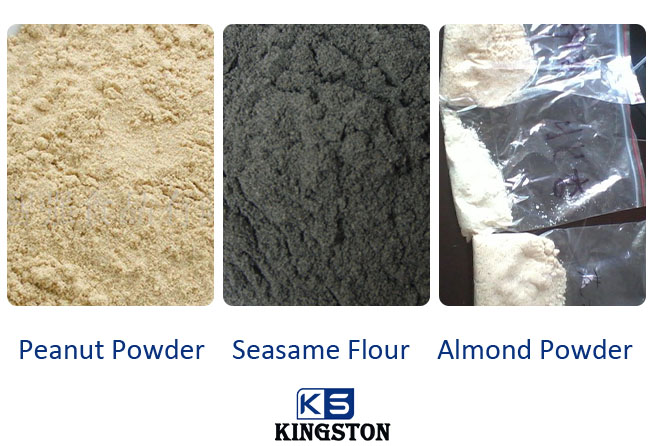 Video clip: https://www.youtube.com/shorts/c2P-MdH17aY
◆ High Grinding Efficiency
Kingston nuts powder milling machine has all the features you'll need to quickly and efficiently mill raw or dried nuts for flour. With its powerful 3kw motor, the nut grinder mill can handle as high as 300kg of nuts per hour. Its dependable performance makes it the first choice for all nut processing plants, nut powder factories and industrial research departments etc.
◆ Stainless Steel Construction
The peanut powder grinding machine is constructed of stainless steel 304, powerful and reliable. Its grinding milling performance is second to none with the capability to produce super fine nuts flours.
Find more cost-effective nut processing machines here! If interested, please kindly mail to [email protected]
Technical Data of Peanut/Almond Flour Mill Machine
Power: 3KW
Material: stainless steel 304
Capacity: 50-300kg/hr
Voltage: 380V/50HZ
Dimensions: 1230*1000*1830mm
Weight: 480kg
nuts powder milling machine, nuts powdering machine, almond powder machine, peanut powder machine, almond flour mill, machine to make walnut flour