Cashew kernel production relates to raw cashew grading, removal of outer cashew shell, steaming, peeling and grading of in-shell nuts etc. The purpose of cashew kernel peeling is to remove the inner skin coat off the cashew kernel, thus improving product sensibility. For commercial cashew production, peeling is a must-have procedure to meet product processing requirements.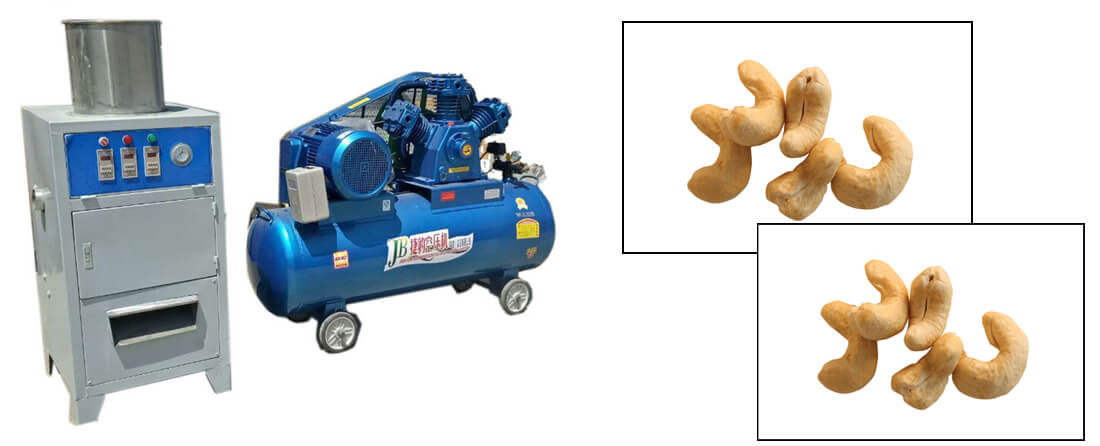 Kingston Cashew Kernel Peeling Machine
As a high value luxury commodity, cashew kernel market remains strong. Its sales are growing at a steady rate recent years. In line with cashew processors' increasing requirements, Kingston Machinery specially designs and manufactures the high performance ST model cashew nut peeler.
| | | | |
| --- | --- | --- | --- |
| Model | ST-150 | ST-300 | ST-600 |
| Capacity | 100-150kg/h | 250-300kg/h | 500-600kg/h |
| Air inflow rate | 1.05m³/min | 1.6m³/min | 3.2m³/min |
| Air inflow power | 7.5KW/380V/50HZ | 11KW/380V/50HZ | 22KW/380V/50HZ |
| Non-heating single machine power | 0.2KW/220V/50HZ | 0.2KW/220V/50HZ | 0.2KW/220V/50HZ |
| Peeling rate | 95% | 95% | 95% |
| Size | 640*600*1300mm | 960*710*1660mm | 1100*920*1700mm |
| Packing weight | 70kg | 110kg | 160kg |
It is a state of the art peeling machine with super low breaking rate. Its precisely design improves the product value, and minimizes aesthetics damage to cashew kernel. After going through peeling stage, the cashew kernel is with an opaque white color, and can be further graded and packaged for exporting.

Features of ST Series Cashew Nut Peeler
◆ It ensures health requirements The factory-production cashew nut peeling machine is designed according to the hygiene requirements, very easy to clean. It minimizes contamination risk during peeling process, and enables effective sanitation. ◆ Precisely manufactured It enables peel off the silk cover and precisely separate it from the cashew kernel. Because of its precisely peeling performance, Kingston cashew peelers are high recommended by our regular clients, home and abroad. The precisely design ensures continuous production and longer life use. ◆ 3 models available, 150kg/h, 300kg/h, 600kg/h Kingston cashew nut peeling machine is available on varied sizes and peeling capacities as per the different needs of customers, for small, medium to large cashew kernel production.
◆ Cost effective For beginner, if you are looking for an affordable cashew kernel peeler to start your production, Kingston machinery will be your first-choice, because all our dedicated-designed nut processing equipment are with ex-factory prices. Banish all your worries, and Choose Kingston Machinery.
Additional Information
Delivery time: 7-10 days after payment Package: export wooden case Transporting: by sea