Notice:
Peanuts should be soaked in hot water for 10-15 minutes before further peeling using Kingston wet type peeler.
Kingston Soaked Peanut Red Coat Peeling Machine
We call it "wet type peanut peeler" because it is used to remove the red skin of wet/soaked peanuts, and has a super great peeling efficiency when used for processing wet ones, different from dry type peanut skin remover.

| | | |
| --- | --- | --- |
| Model | HTP-200 | HTP-150 |
| Capacity | 200kg/h | 150kg/h |
| Power | 1.5KW/ 220~380V | 1.1KW/ 220~380V |
| Weight | 280kg | 200kg |
| Dimension | 1150*900*1100 mm | 1180 * 720 * 110 mm |
Sanitary Design
Kingston peanut skin peelers are designed with hygienic design principle in mind helping peanut processors limit the risks of toxins. The contact surfaces intended to come into direct contact with peanuts during peeling process are made of stainless steel materials, resisting corrosion, being extremely durable and cleanable to a microbiological level.
Besides that, the peeling rubber rollers adopt vulcanized rubber which conforms with FDA standard guidelines for rubber products, which is ideal for food processing. With its hygienic design, clean-up is a breeze.
It is a must-have peeler machine for all peanut processors. Choose Kingston wet type groundnut skin removing machine so you can enjoy top quality equipment that are built to last.
Other Top Picks of Kingston Peanut Red Coat Peeler
◆ Multi-function
The primary function of the peeler is to removing the SOAKED PEANUTS skin. While it can be multi-used for the handing of soaked almonds, soybeans, and apricots. The automatic multi-function peeler machine is ideal for small to medium scale peanut/almonds red skin removing.
◆ Gorgeous Peeling Effects
During peeling process, Kingston peanut skin peeler maintains the peanut kernel integrity. The peeled peanuts can be further processed into many different snacks. Therefore, the automatic peanut peeler is with high demands in the world.
◆ No Wastage
Kingston wet peanuts red skin peeler adopts gravity-flowing to discharging the peeled products, reducing machine shake, limiting wastage.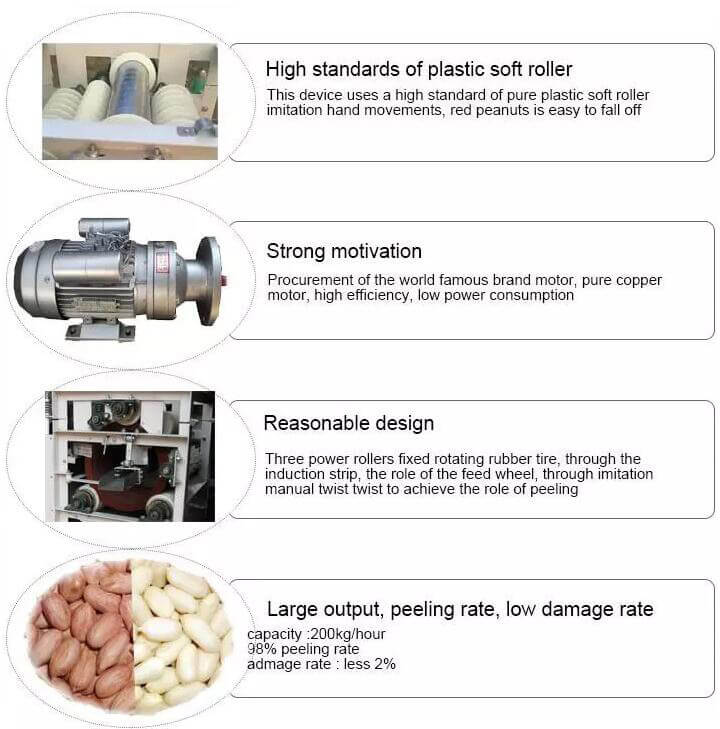 Wet Peanut Peeling Process
1. Peanuts are soaked in cold water for 30 minutes and hot water for 1 minute before peeled.
2. Put the wet peanuts in the hopper, and the vibration brings peanuts into the rotating rubber wheel which is fixed by three powerful rollers.
3. The blades cut the outer red skin and the wheel presses peeled peanuts into discharging hopper.
4. The peeled peanuts have high integrity of about 98%.