Plantain slicer machine is mainly used to cut banana, carrot, lotus root, cassava, lemon, turnip, radish and the like into slices. The banana chips making machine has a series of obvious advantages, including high slicing efficiency, easy operation, low energy consumption and high safety, which makes it become the ideal equipment for fruit and vegetable slice processing.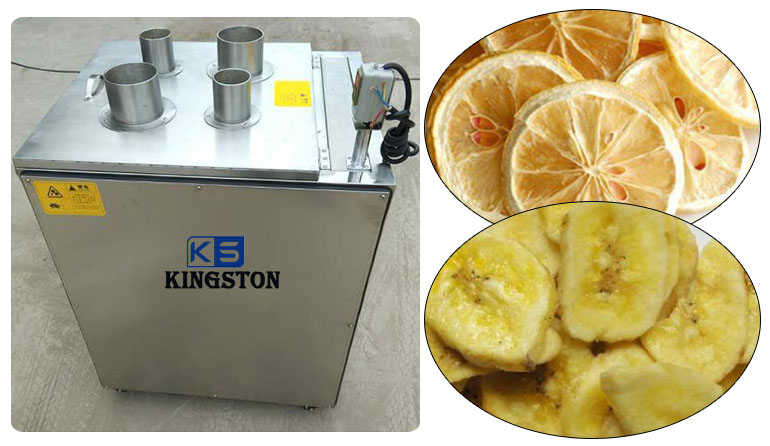 Features of Kingston Plantain Chips Cutter Machine/lemon cutting machine
▼ This banana chips making machine is made of high-carbon chromium stainless steel with high strength and hardness, ensuring food production hygiene. And its blade is sharp and not easy to deform.
▼ Banana chips cutting machine uses a rotating cutter head to cut plantain into slices, with good slicing quality, fresh cut surface, product thickness and uniform size. And it brings no damage for fibrous structure.
▼ Considering the diversity of customers' sliced raw materials, we can provide banana slicer machine with unique customized services, like customizing the height and diameter of the inlet for customers.
▼ The mechanical transmission of high power brings long lifespan for the machine, and with low noise when running well.
▼ Plantain slicer machine supports continuous production, and its discharge port can be linked to subsequent processing equipment, which is convenient, practical and efficient.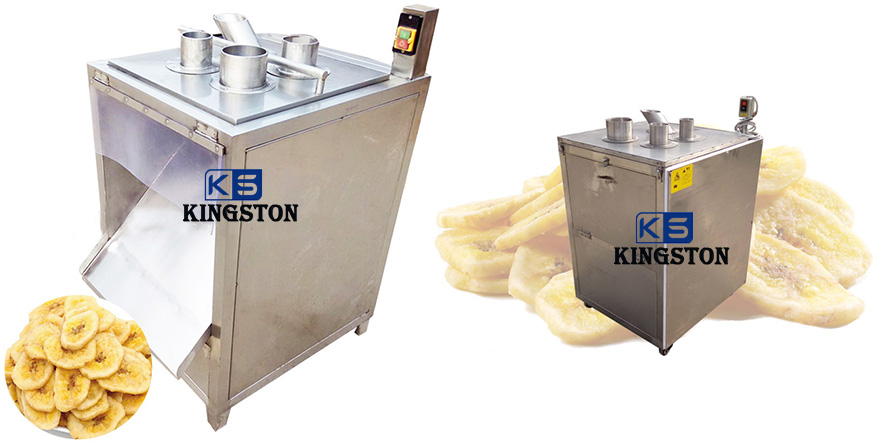 Operational Manual of Banana Slicer Machine/casava root slicer
The banana cutting machine has the simple structure, easy operation and large output.
1.Turn on the power to run the machine. At the same time, please make sure the rotating blade is rotating at the counterclockwise, otherwise adjust the wire source in time.
2.Before putting banana into feed inlet, please ensure banana peeled.
3.Then the rotating blade slices the banana after banana enters into the inside of machine. By the way, it is necessary for users to perform trial cut first to make sure the cut banana consistent with the requirements. And the height between the blade and the turntable can be adjustable.
4.The sliced bananas fall into the material box.
5.Clean the banana slicer machine after each use to ensure that no food residue remains inside it.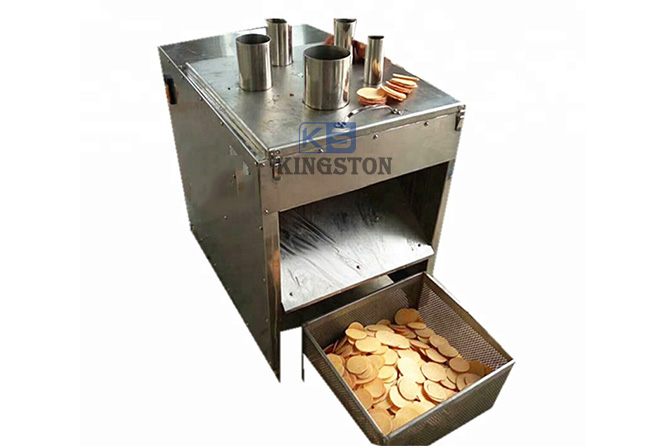 Applications of Plantain Slicer Machine/lemon slicer/casava chips machine
The durable banana chips making machine has wide applications, not only for cutting banana and lemon slices, but also for cutting root vegetables such as onion rings, carrots, lotus root, yam, and so on. In a word, commercial banana slicer machine is appropriate for washing fruits and vegetables in dehydrated vegetable factory, frozen food factory, pickles and canning plant.
Video page: https://www.youtube.com/shorts/RIKCPwDQ_5k