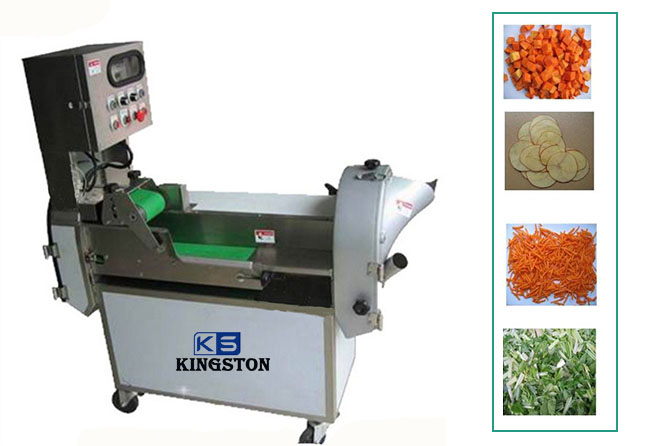 Multifunctional cutting machine, an automatic and high efficient vegetable cutter, is specially designed for a big variety of cutting organic products for chopping vegetables that are to be used on a large scale, for example, used in large canteen or restaurants.
This vegetable cutting machine has the built-in frequency converter to adjust the speed and accuracy of the in-feed belt and cutting disc. Meanwhile, our vegetable cutting machine is equipped with double cutting heads that can meet different requirements of cutting various vegetables.
Generally speaking, cutting 1000kg of vegetables needs two professionals working a whole day, however, it only needs an hour to complete the same process by using our vegetable cutting machine.
That is to say, Kingston multifunctional vegetable cutting machine is able to save lots of time and produce 10x more outcomes.
Features of Automatic Vegetable Cutter/vegetable shredder/vegetable processor
■ Our multifunctional cutting machine has the characteristics of beautiful appearance, simple operation, easy adjustment, convenient maintenance, low noise, high yield and high efficiency.
■ The cutter head can be easily replaced to meet different production needs.
■ Moreover, this vegetable cutting machine can realize the accurate material control, for instance, controlling the slice thickness of 1-3mm and the size of the cut vegetables can be adjusted to 1-60mm, which can replace manual slicing and shredding to varying degrees. What's more, the cut vegetables are neat and uniform in thickness with far better quality than manual.
■ The raw materials are conveyed by the conveyor belt, and the speed of the rotary knife and the speed of the belt are independently controlled by the inverter.
■ It has the thoughtful design, reasonable structure and long machine life.
■ This commercial use vegetable cutter is easy to use alone or with other vegetable machines in whole processing line.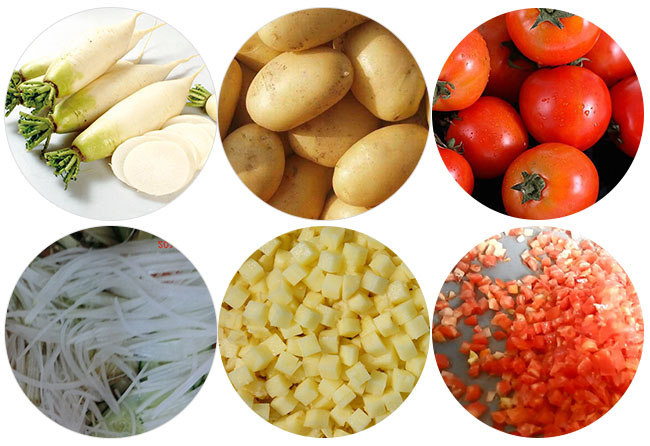 Applications of Multifunctional Cutting Machine
The automatic vegetable cutter machine is appropriate for the processing of a variety of vegetables, such as hard and soft roots, stems, leafy vegetables, kelp and so forth.
Available: Potato (see more information on potato stick cutting machine), sweet potato, taro, onion, carrot, eggplant, cabbage, celery, apple, pear, pineapple, peach, etc
It can cut various shapes by changing the cutting disc, such as slices, pieces, silk, diced, and filaments, etc.
In virtue of adopting high quality stainless steel, the industrial vegetable cutter is hygienic, sturdy and durable. Nowadays, it has been the frequently applicable equipment for unit canteens, hotels, restaurants, schools, military, prisons, central kitchen, vegetable processing units, clean vegetable distribution industry, and food factory, etc.
For Fine chopping of various vegetable, Kingston Machinery recommends our novel design vegetable cutting machine, vegetable shredding, vegetable slicing, vegetable dicing machine, Vegetable Chopping Machine, ALOVERA CUTTING
Technical Parameters of Kingston Automatic Vegetable Cutting Machine
Dimensions: 1160X530X1000mm
Weight: 135KG
Cut size: 2-60mm
Belt width: 120mm
Capacity: 300-1000KG/HR
Voltage: 220V
Power: 3/4HP
Manufacturer: Kingston Machinery
Video clip: https://www.youtube.com/watch?v=SGD3mUeWE2I