Brief Introduction on Kingston Fruit Deseeding Equipment/fruit corer/fruit pitter
Fruit Deseeding Machine is amazing equipment that can protect people from peeling, cutting and then removing the seeds from the fruits.
Kingston fruit deseeder machine is extensively applied for those industries that pitted the seeds and then processed the fruits for further selling. The fruit deseeding machine is usually used to pit fruits such as peach pitting, apricot pitting, litchi pitting, loquat pitting, plum pitting, and olive, etc. It can keep fruits still have high integrity flesh rate even after pitting. also named with fruit pitting machine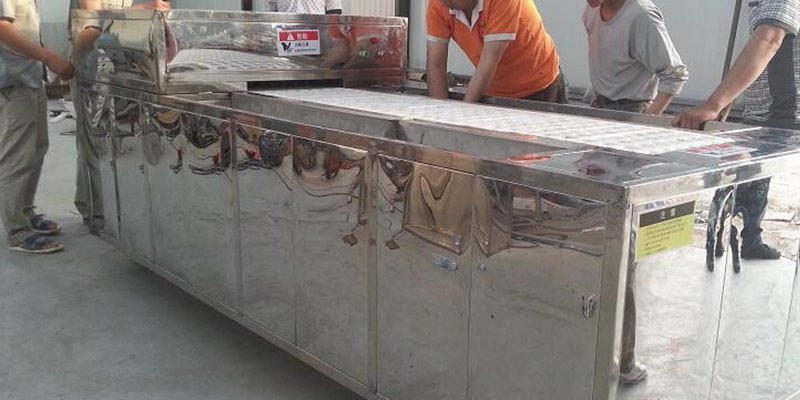 Fruit Deseeder Deseeding Process/fruit coring
Fruit deseeding machine adopts electromagnetic vibration feeder to load fruits automatically, then transferring the fruits to pitting position by the chain conveyor.
The storage hopper and the conveyor belt are directly combined, so after fruits are poured into the storage hopper, achieving the effect of feeding and conveying. Besides, the template can be selected according to the shape and diameter of fruit. After falling on the conveyor belt, fruit will automatically enter the template hole, and the excess fruit will be brushed into the other holes through the brush, so that the feeding efficiency can reach more than 95%, greatly improving the working efficiency. It can be worked with fruit washing machine. fruit peeling machine, fruit slicing machine, fruit drying, etc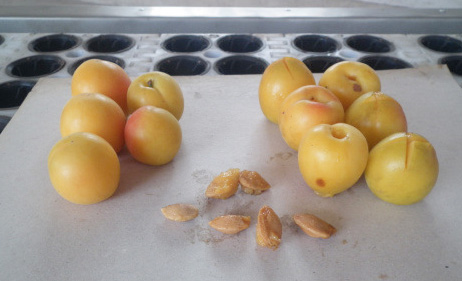 After the holes are positioned, the fruits continue to be transported and advanced. During the process of transportation and advancement, the fruits are pitted by the machine tool. Then the fruit cores fall into the core-discharging dustpan and automatically flow out and collect together.
The fruits that have been pitted continue to be transported to the next link for automatically fruit dropping, which makes the shape of the discharged fruit completely unchanged. Then the fruits fall into the dustpan, flowing out and collecting together automatically, so as to achieve the separation of the fruit and the core.
Features of Kingston High Efficient Fruit Deseeding Machine
◆ The deseeding machine for pitting fruits adopts a high degree of automation, and the mold conveyor belt can realize fruit feed for conveying and nucleating automatically. Just pouring the fruit into the hopper can complete the separation of the core and meat, making continuous work without interruption, which eliminates the difficulties of low efficiency, labor-consuming, and time-consuming manual denuclearization.
◆ The structure of the fruit deseeding machine is composed of 304 stainless steel thick-walled square pipe and channel steel welding, which makes the equipment more stable during operation.
◆ The equipment fully complies with the sanitary standards of food processing equipment, and the conveyor belt is resistant to wear, tension, tearing and has a long lifespan.
◆ In virtue of advanced design concepts and standardized components, the core removal rate of fruit deseeding machine can reach 100%, along with the shape of the pitted fruit completely unchanged.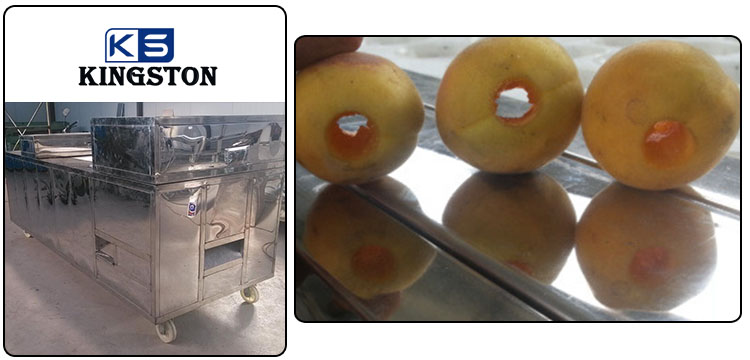 Technical Data on Industrial Fruit Deseeder Machine
Model: LZQH-190-4
Size range: ∅32—∅38
Speed: 16800 pcs/h Ratio:100%
Power: 1.5kw
Voltage: 380v/50hz
Weight: 550kg
Dimensions: 2800*1280*1220
Material: stainless steel
Video page: https://www.youtube.com/watch?v=7WZQra0vupo
Other name: fruit seeds separator, fruit seeds removing machine, peach kernel separator, peach kernel removing machine, peach seeds separator
Apricot kernel separator, apricot kernel removing machine, apricot seeds separator, apricot seeds removing machine, apricot deseeding machine
Cherry pitting machine, cherry deseeding machine, cherry seeds separator, cherry seeds removing machine, litchi pitting machine, litchi deseeding
Litchi kernel separator, litchi kernel removing machine, litchi seeds removing,Slitting and pitting machines for palm dates, fruit kernels separating machine