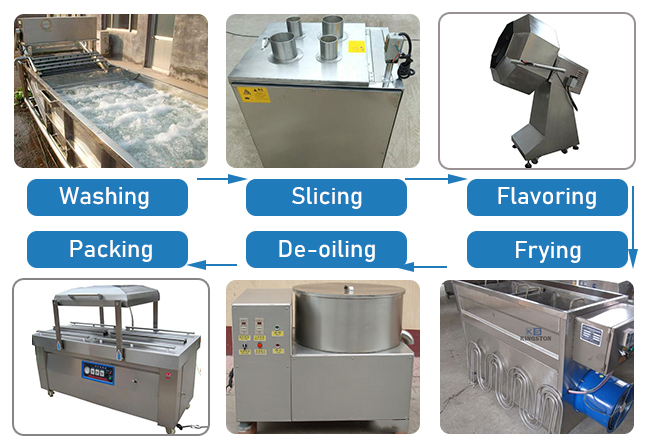 Brief Introduction on Kingston Plantain Chips Production Line
Plantain chips processing line designed by our company can offer a series of professional equipment and manufacturing technique to retain the nutrients of the banana chips for a long time, preventing the loss or damage of the nutrients of the banana chips to a greater extent, and improving the storage performance of the banana chips.
In the face of the abundant banana resources, deep processing and comprehensive utilization are very necessary. Therefore, plantain chips production line follows the development of the times because it can achieve "leapfrog" value-added, reduce post-harvest loss of bananas, increase farmers' income, and increase the competitiveness of the banana industry. At the same time, Kingston Machinery can provide banana chips production line with various capacities so as to meet the different needs of consumers, for example, 100/150/200/300 kilogram per hour.
Working Process of Plantain Chips Production Line
A complete commercial banana chips processing plant mainly includes the following machines: banana chips slicer machine, elevator, fruit washing machine, dewatering machine, frying machine, de-oiling machine, seasoning machine and automatic packaging machine etc.
The production process of banana chips mainly includes the following steps:
◆ Raw material selection: The plantain used to make banana chips should be fully mature, free from pests and rot.
◆ Peeling and slicing: peel the bananas and cut them into 5mm-10mm thick slices. Here, we recommend the professional commercial banana slicer to cut bananas on a large scale. Besides, this banana chips slicer is flexible for operators to adjust the thickness of slicing.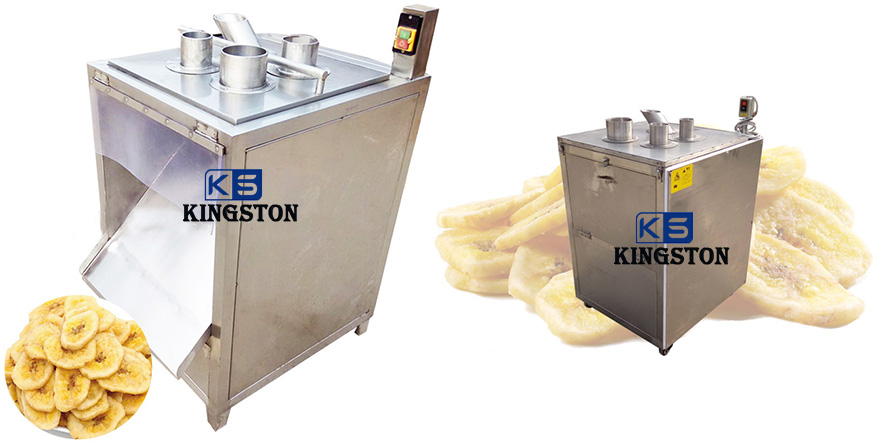 ◆ Seasoning: According to the ratio of 10 parts banana, 1 part milk powder and 5 parts water, banana chips seasoning machine can help to mix the milk powder with water, pour it into the banana slices, and stir thoroughly so that all the banana slices can stick to the milk powder.
◆ Frying: After baking the banana slices, put them in 130~150℃ vegetarian oil and fry them until brown, and they will be crispy and fragrant "banana chips" when they are out of the pan. Kingston industrial food frying machine adopts oil-water mixing technology, so the sediment can be cleaned easily.
◆ De-oiling: Plantain Chips de-oiling machine can reduce the oil content and make them tastier.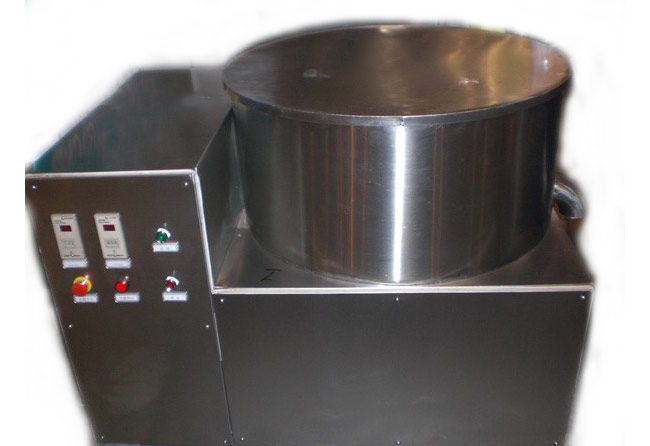 ◆ Graded packaging: Here, we provide the automatic chips packing machine to pack plantain/banana chips in bags for graded packaging according to color and size. Moreover, it automatically completes all the process from feeding, counting, filling and bag making, date printing to finished products output.
Advantages of Banana Chips Production Line
Made of 304 stainless steel, our banana chips production line is equipped with advanced and efficient heating system and has obvious advantages such as low investment, low energy consumption, high working efficiency, multiple function and high profits, etc.
Kingston Machinery can supply the best solutions for processing potato chips, potato cracks processing, banana chips or plantain chips production line, Plantain cutting machine, welcome inquiry
Video clip: https://www.youtube.com/shorts/RIKCPwDQ_5k